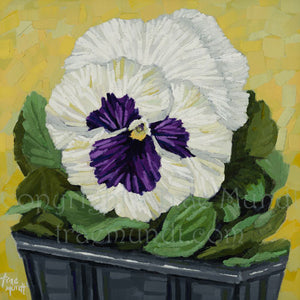 Peek-a-boo - White and Purple Pansy
---
I painted Peek-a-boo in January right in the middle of Pansy season. (I live in the desert!)

Our HOA likes to keep our community looking nice. I drove by the pansies up near the front gates and was inspired to paint one in oil. The next day I went to our local Star Nursery and purchased a few pansies. I decided to paint this one with the beautiful white and purple petals.
Do you like to see work in progress pictures?
I share a few pictures in my blog post titled Smiling Pansy Painting.

SHOP - Peek-a-boo Oil Painting

© 2022-2023 Trae Mundt | All rights reserved
---
We Also Recommend
---