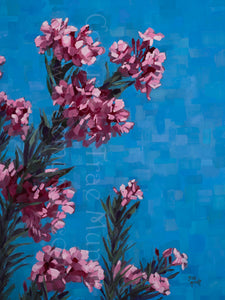 Hopeful - Pink Oleander Blossoms on Blue
---
Have you ever wanted to do something but were held back physically from doing it?
Since July of 2020 I've had many physical challenges from shoulder surgery to fighting Covid-19 pneumonia to breaking both my arms. Yes, both my arms. Tough times. Really tough times.
I leaned on God trusting Him with all my needs. He met me in my darkest places and brought me through to sunnier days. He taught me that in the valleys of life there are beautiful flowers if you're willing to see them. In my blog post The story behind Hopeful I share how He touched me and inspired me to pick up my paintbrush again and paint for Him.

© 2020-2023 Trae Mundt | All rights reserved
---
We Also Recommend
---